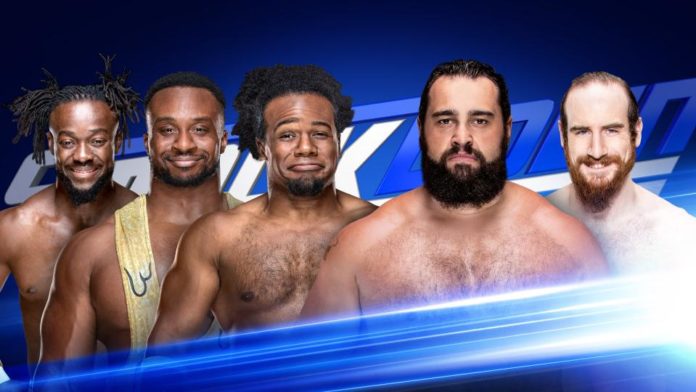 - Tonight's WWE SmackDown opens with the standard intro video.
- We're live from the Valley View Casino Center in San Diego, California as Tom Phillips welcomes us. He's joined by Corey Graves and Byron Saxton.
- We go right to the ring and out comes Kevin Owens with Sami Zayn. We see video from last week's No DQ main event, which saw Sami help Owens defeat Randy Orton.
Owens welcomes us to The Sami & Kevin Show to a mixed reaction. Sami says Owens is far too gracious but tonight is The Kevin & Sami Show. Owens says when you're as great of an athlete as he is, you never stop learning and he's recently learned that the McMahon family will stop at nothing to get their pound of flesh when you're one of their targets. Just ask Daniel Bryan or WWE Hall of Famer Bret Hart or WWE Hall of Famer Steve Austin, better yet just ask Owens and Sami. Owens says they are better than any of the guys they just mentioned anyway, combined. This is why they are the latest objects of The McMahon Family Wrath. Owens points to how SmackDown Commissioner Shane McMahon tried using Orton to end his career last week. Sami mentions Shane using Orton to do his dirty work these days but not too long ago it was RAW Commissioner Stephanie McMahon using Orton so this is nothing new. Owens says they crawl and fight for their opportunities while Orton is always handed his. They go on and say Shane's plan didn't even work last week. Owens knew he had to beat Orton so bad that Orton would no longer be an option for Shane. Owens had to show the world that he's not afraid of Orton or Shane's vendetta against them, and to do that he had to outsmart Shane.
They go on the mic and Sami ends up walking around the ring and knocking the announcers and some of the other ringside employees, then the fans in the crowd. Fans boo. Sami continues walking up the ramp, where he destroyed Orton last week. Sami is bragging on how Owens won last week when Orton suddenly appears in the ring and takes Owens out with a RKO outta nowhere. Sami looks on from the ramp stunned. Orton stares Sami down and looks to go after him but the music hits and out comes SmackDown Commissioner Shane McMahon.
Shane says he does not have a vendetta against Sami and Owens. Regarding the two being left off WWE Survivor Series, Shane says they will be featured at Clash of Champions in two weeks. He announces Sami and Owens vs. Orton and a partner of Orton's choosing. Shane announces Sami vs. Orton for tonight. Owens will be handcuffed to the ring rope for the match. Shane tells Sami good luck and his music hits. Sami looks on from the ramp as Owens recovers on the floor and Orton smirks from the ring.
- Still to come, Bobby Roode vs. Baron Corbin. Also, The New Day vs. Rusev and Aiden English. We go to commercial.
- Back from the break and Sami is backstage with Owens. Owens asks Sami to explain to him what Shane just announced. Owens isn't happy about being handcuffed to the rope during Sami vs. Orton. Owens says he's going to go fix this by talking to SmackDown General Manager Daniel Bryan.
The New Day vs. Rusev and Aiden English
We go to the ring and Rusev is waiting with Aiden English. English starts singing about the 12 Days of Rusev for Christmas. The music interrupts as The New Day is out next.
English starts off with Big E as Xavier Woods watches from the floor with Francesca. Big E overpowers English after grinding on him, then slams him on the mat. Kofi Kingston tags in and drops English for a 2 count. English fights back but runs into boots in the corner. Kofi with a springboard crossbody for a 2 count. Kofi with more offense now. Kofi goes for the Boom Drop but Rusev pulls him to safety. Rusev and English re-group on the floor as The New Day taunts them in the ring. We go to commercial.
Back from the break and English has Kofi grounded on the mat. Rusev ends up tagging in and keeping the offense going. Kofi tries to fight back but can't get it turned around. Big E and English finally tag in at the same time. Big E unloads on English with throws and suplexes. Big E dances over English and runs the ropes for the big splash.
Big E gets the crowd hype and goes for the Big Ending but English rakes his eyes. Rusev tags in but Big E catches him with a big slam for a 2 count. Kofi tags back in but Rusev pulls Big E to the floor and sends him into the steel ring steps. Kofi runs the ropes and leaps, taking out Rusev on the floor. Kofi rolls Rusev back into the ring. Kofi kicks English off the apron. Kofi springboards in but Rusev pushes the top rope and he lands bad. Rusev with a big kick to the back of the neck for the win.
Winners: Rusev and Aiden English
- After the match, The New Day goes to the floor as Rusev and English stand tall in the ring as Rusev's music plays.
- We see footage of Mojo Rawley turning on Zack Ryder last week. Renee Young is backstage with Mojo now. Mojo says everyone keeps getting on him for what he did to Ryder, even Rob Gronkowski. Mojo wonders why no one will ask what Ryder did to him. Mojo says he won the Andre the Giant Memorial Battle Royal by himself at WrestleMania after Ryder got hurt and right when things were going good for Mojo, Ryder returned to bring him down because he's dead weight. Mojo says he's a serious competitor and he's not someone's tag team partner. Mojo issues a challenge to the back and says if people don't like what he did to Ryder, they can shove it.
- Still to come, Orton vs. Sami with Owens handcuffed to the ring rope. Back to commercial.
- Daniel Bryan is backstage with Carmella, Lana and Tamina Snuka. Carmella says she rid the world of James Ellsworth, which deserves a spotlight at Clash of Champions alone. Lana makes the case for Tamina Snuka deserving a title shot. Bryan says the SmackDown Women's Title match is already official for Clash, Natalya vs. Charlotte Flair. The Riott Squad ends up walking in. Ruby Riott points out how she even pinned Flair and wonders why she isn't getting a title shot. Liv Morgan and Sarah Logan also have words. The two sides end up arguing until Bryan yells at them. Bryan says they will all be at Clash at Natalya vs. Flair will now be a Lumberjack Match.
- We go backstage to Bobby Roode and WWE United States Champion Baron Corbin. They have words ahead of tonight's non-title match. Dolph Ziggler appears and brags about being so good, which is why he was put in the match with Roode and Corbin at Clash. He pokes fun at Corbin for his failed Money In the Bank cash-in earlier this year. Ziggler says Corbin and Roode's odds just dropped to 0 and he will see them in Boston.
- Still to come, The Bludgeon Brothers. We go to commercial.
The Bludgeon Brothers vs. Adam James and Josh Carr
Back from the break and out comes Rowan & Harper while enhancement talents Adam James & Josh Carr wait in the ring.
Rowan starts off with one man and floors him with a kick. Harper knocks the other man off the apron and follows him for a huge clothesline on the floor. They bring it back in the ring and double team the legal man.
Rowan with a huge powerslam. Rowan scoops Harper and slams him on top of the legal man. Harper tags back in for another big double team for the easy squash win.
Winners: The Bludgeon Brothers
- After the match, Rowan & Harper stand tall as we get replays.
- The announcers lead us to behind-the-scenes footage of Charlotte Flair on the "Psych" movie that airs on USA Network this Thursday.
- Sami is backstage with Owens, asking if he talked to Daniel Bryan about being cuffed to the rope. Sami rants and Owens calms him down. Owens did speak to Bryan and Bryan said he'd think about it. Sami hugs Owens but Owens looks annoyed. Sami asks if that is a good thing or a bad thing. Owens says we'll have to wait and find out.
- Still to come, Roode vs. Corbin. Back to commercial.
Baron Corbin vs. Bobby Roode
Back from the break and out comes WWE United States Champion Baron Corbin for this non-title match as Greg Hamilton does the introductions. Bobby Roode is out next to a pop.
Dolph Ziggler is out for commentary. Back and forth to start the match. Corbin drops Roode with a big shoulder and works him over. Roode takes out Corbin's knee and sends him to the floor. Some fans chant for Roode but Corbin drops him with a right hand to fight back into the ring. Corbin returns to the ring and keeps Roode down while talking some trash.
Corbin with a big clothesline in the corner. Roode fights up and out of a headlock. Roode focuses on Corbin's knee now. Roode charges but Corbin catches him for a chokeslam but Roode avoids it. Corbin runs into boots in the corner. Roode comes off the second rope but Corbin misses it. They both go down after colliding with clotheslines.
Ziggler enters the ring to get a closer look at the action. The referee warns him. Ziggler drops Roode with a Zig Zag as fans boo.
Winner by DQ: Bobby Roode
- After the bell, Ziggler waits for Corbin to get up and drops him with a Zig Zag. Ziggler stands tall as his music plays.
- Natalya approaches Tamina, Lana and Carmella backstage about being Lumberjacks at Clash. Natalya says she will have Tamina's back in her match with Flair tonight. Natalya tries to get the trio to have her back in case The Riott Squad tries to attack her at the Clash but they're not buying it. Ruby, Liv and Logan appear behind Natalya. Natalya tries to suck-up to them, thanking them for taking out Naomi and Becky Lynch. She goes on praising them and tries to warn them about Flair. Natalya says she's so honored to share the spotlight with the most powerful women in WWE, The Riott Squad. Natalya does an awkward laugh and leaves in a hurry.
- Still to come, Sami vs. Orton with Owens handcuffed to the rope. Also, a special look at Jinder Mahal vs. AJ Styles. We go to commercial
- Back from the break and the announcers lead us to a video package on Jinder Mahal vs. WWE Champion AJ Styles at Clash of Champions.
Charlotte Flair vs. Tamina Snuka
We go to the ring and out comes SmackDown Women's Champion Charlotte Flair for this non-title match. Tamina Snuka waits in the ring. Natalya, Lana and Carmella are posted up at ringside on each side.
Back and forth to start the match. Flair drops Tamina and covers for a 2 count. Tamina fights up to her feet and whips flair into the corner but she lands on the apron. Flair fights her way in from the apron and stuns Snuka. Tamina rams Flair back into the corner and unloads with shoulder thrusts. Tamina scoops Flair and dumps her in the corner. Tamina stands tall as we go to commercial.
Back from the break and Tamina remains in control. Flair fights out of a hold but Tamina floors her and covers for another 2 count as Lana looks on and nods in approval. Flair comes back with a neckbreaker and chops. Flair with more offense and another pin attempt.
Flair counters a Samoan Drop and then drops Tamina with a big boot. Flair goes for the Figure Four in the middle of the ring and bridges it into the Figure Eight. Tamina quickly taps out.
Winner: Charlotte Flair
- After the match, Flair stands tall with the title. Natalya jumps on the apron and asks if Flair is done yet. Natalya congratulates Flair on the win and taunts her. Natalya says Flair should enjoy her last little taste of victory because Natalya is taking the title back at Clash of Champions. Natalya says The Queen will then bow down to the best there was, is and ever will be. Natalya tells Flair to take a look around the ring and see what is in store… the music interrupts and out comes The Riott Squad. Ruby Riott has a mic and says for once, she agrees with Natalya as they should give Flair a preview of what's in store for her at Clash of Champions. Ruby asks what's a preview without the stars of the show. She tells the WWE Universe to break out their popcorn and drinks because The Riott Squad is here for the feature presentation. Sarah Logan quotes her grandpa about how nervous the others look. Liv Morgan says no one is safe when a riot is about to break out, that's why they look nervous. Tamina nails Logan and drops her to start the brawl. Carmella and Lana hold Tamina back while Ruby and Liv hold Logan back. Flair retreats up the ramp with the title. Flair raises the title on the stage as her music hits.
- Sami Zayn and Kevin Owens are backstage walking when they see Daniel Bryan. Owens thanks Daniel Bryan for listening to him and his appeal. Bryan says he did listen to the appeal. Owens thinks it's wrong to be cuffed to the rope but at the same time Shane wants to make sure there's no interference in the main event. Security appears with cuffs in hand behind Bryan. Bryan says he agrees with the Commissioner and Owens just shakes his head. We go to commercial.
- Back from the break and Owens is at ringside with Sami, Bryan and security. Owens refuses to let them handcuff him to the ring rope. Bryan says Owens will be suspended if he refuses. Owens finally agrees and throws a fit after the cuff is locked.
- The announcers run down the card for WWE Clash of Champions.
Randy Orton vs. Sami Zayn
Back to the ring as Randy Orton makes his way out for tonight's main event. We go to commercial.
The bell rings and Orton takes it to the corner as they lock up. They end up on the floor and Orton launches Sami over the announcers table. Orton also backdrops Sami on top of the barrier. Orton later slams Sami on top of the announce table, crushing a monitor.
Sami goes back into the ring but right back out of the ring to where Owens is cuffed. Orton goes to follow but stops before leaving the ring. Orton talks some trash. Sami tries to take advantage of a distraction and come from behind but Orton decks him and sends him back into the barrier. Orton with an uppercut. Orton drives Sami on top of the announce table. More back and forth between the two. Sami sends Orton into the steel ring steps and brings it back in for a 2 count. Sami with a few holds before sending Orton to the floor in front of Owens, who talks more trash and taunts Orton. We go to commercial.
Back from the break and Orton mounts offense to a pop. Orton with a powerslam. Sami goes tot he floor for a breather and looks under the ring for a weapon but Orton decks him from the ring. Sami hits Orton and grabs a pair of bolt cutters from under the ring. Sami goes over and tries to cut Owens' cuff now. Orton stops Sami and drops him, then runs Owens face first into the ring post. Sami nails Orton from behind. Sami brings Orton back into the ring and Owens is still cuffed.
Sami goes to the top but he takes too long and Orton crotches him. Fans chant for the RKO now. Orton climbs up for a big superplex, driving Sami into the mat.
We see Owens using the bolt cutters now. Orton drops Owens on the floor just as Owens breaks his cuff. Orton with a draping DDT on Sami as fans cheer him. Orton stands tall before dropping down to the mat. Owens comes to the apron but Orton kicks him for a draping DDT but Sami comes from behind and rolls Orton up for a 2 count. Sami avoids the RKO but misses a Helluva Kick in the corner. Orton rolls Sami up out of the corner and gets the win.
Winner: Randy Orton
- After the bell, Orton stands tall until Owens drops him from behind. Sami and Owens double team Orton until the music hits and out comes Shinsuke Nakamura for the save. Nakamura with a big running kick to take Owens down. Nakamura takes out Sami next, then Owens again. Nakamura hits Owens with a Kinshasa now. Orton recovers now and grabs Sami as fans chant for the RKO. Orton hits it and drops Sami. Orton's music hits as he shakes hands with Nakamura in the middle of the ring. It looks like Orton has his partner for Clash of Champions. We go to replays. We come back to Owens taking the RKO before Sami takes a Kinshasa. Orton stands tall with Nakamura as The Artist's music plays. We cut backstage to Shane and Bryan, calling that one of the most satisfying finishes to SmackDown since they took over. Bryan asks if his punishment for Owens and Sami is over yet. Shane says he's just getting started as he will be the special referee for Owens & Sami vs. Orton & Nakamura at Clash of Champions. Shane says if Owens and Sami lose, they will be fired from not just SmackDown but all of WWE. Shane and Bryan look on as Orton and Nakamura continue their celebration. SmackDown goes off the air.