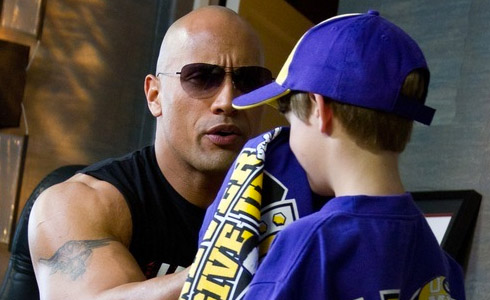 - Prior to RAW, Mark Henry defeated Zack Ryder with The World's Strongest Slam in about 5 minutes.
- Thanks to Geoff Clark for this report:
A Phillips Arena staff person told me that the arena was a legit sell out and that they had to turn away a lot of people. They actually had staff checking tickets randomly to be sure everyone was in the right seats. I don't see any empty seats.
During the break when Cole came out to the commentary position he got huge heel heat. The crowd chanted "You're an a-hole" at him and he kept working them. This crowd is real hot.
During the final break at Raw, the crowd was white hot. Someone started a "Let's go Cena" chant and it was quickly drowned out by a LOUD "Cena Sucks" chant. This crowd was ready for the final segment.
After Raw ended, Rock stayed around for a while. As he walked up the aisle, he took a Cena hat off a little kid an teased that he was going put it on, then shook his head and gave it back and high- fived the kid. The kid looked super excited. There was no dark match or announced return date.
Also, the weather here is horrible. I'm stuck in the CNN Center with a couple hundred people. The police will not allow us to leave. Winds are 40-60 mph and chance of hail.