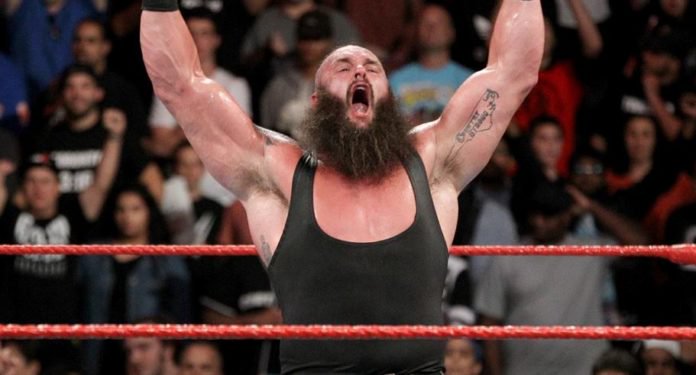 Dave Meltzer indicated on this week's Wrestling Observer Radio show that Braun Strowman was pulled from the WrestleMania 34 singles match with WWE Intercontinental Champion The Miz due to concern over the main event, Roman Reigns vs. WWE Universal Champion Brock Lesnar.
Strowman was reportedly pulled from the singles match with The Miz because officials felt that it was important to have some sort of back-up plan for the main event, Reigns vs. Lesnar, in case damaging evidence against Reigns may come out of the investigation that filmmaker Jon Bravo is doing. We've noted how Reigns was implicated in a steroid ring by jailed steroids dealer Richard Rodriguez, along with actors Mark Wahlberg and Josh Duhamel. Reigns has denied any accusations but Bravo noted Wednesday that his report on WWE is complete, and that he has evidence on a former WWE Legend placing more than $140,000 in orders with Wellness Fitness Nutrition, which was ran by Rodriguez. Bravo notes that the report will contain evidence on Reigns and other former & current WWE Superstars. Bravo's findings will be released soon.
No word yet on what might be planned for Strowman at WrestleMania but it could be some sort of throw-away match. Meltzer also speculated that Braun could end up facing Elias or Samoa Joe, if he's able to return. WWE could always add Strowman to the Reigns vs. Lesnar match to make it a Triple Threat but we have heard no rumors on that direction.
WWE indicated on this week's RAW that WrestleMania 34 will see Miz defend against Seth Rollins and Finn Balor in a Triple Threat. Justin Barrasso of Sports Illustrated reported that the match will be a Fatal 5 Way with Miz, Rollins, Balor, Elias and Strowman but that should be taken as a rumor for now.