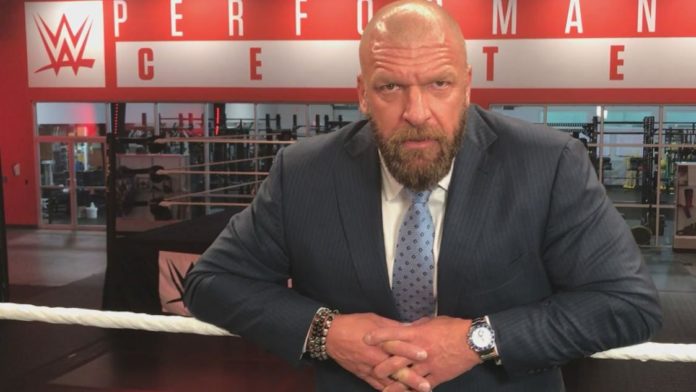 Triple H recently spoke with Rolling Stone to promote Monday's WWE RAW 25th Anniversary show. The full interview is at this link and below are highlights:
What's been the biggest logistical nightmare of pulling this [RAW 25 special episode] off?
When you take 25 years of memorable moments and characters, trying to boil that down to a three-hour Raw episode being simulcast and in two places, how do you whittle that down to certain people and times and events? I was doing an interview the other day, and they put out a list so I could refresh my memory, and it was pages and pages of these moments. As I'm going through them, "Oh my god, that was the coolest thing ever. That was the coolest thing ever. That was even cooler." And then there are the ones that involve me. But there are so many others, and that's been the hardest thing – not forgetting stuff. You can't get everybody, and you're going to get a lot of people who go, "I can't believe they didn't do this and talk about that." It's 25 years. You just can't do it all. I can tell you what it will be: It will be one hell of a celebration.
How do you weight the expectations of talent versus those of the fans?
Talent have certain expectations of things, and then there' what the WWE universe is looking for and wants, and that's who we're creating this show for. It's their show. That's been the secret sauce for 25 years – our fanbase and the show that encourages them to be a part of it. It all started with Raw and went from there, so this is for them. This is in celebration of them. If you said, "What's the hardest thing in this?" it would be getting anything done, because it's going to be like old home day for all these talent who haven't seen each other. And once you get wrestlers telling stories its over. We'll all be telling stories all day long and putting ourselves over. At some point, I gotta remember, "I've got a show to make here."
The promotion for this has also repeatedly shouted out how long-running Raw has been. Do you feel like you have to make your own noise about that?
We have to. Everybody else doesn't make the noise for us in some ways. I think WWE gets lumped into, "We're not fish, we're not fowl." So is it a sport? Is it theater? Is it a television show? You get in this weird mix, and they don't know where to place it, so it gets overlooked. But I don't care how you break it down. Twenty-five years on weekly television, most of which [has been] live. It's an unbelievable amount of television and content and characters that have in some instances shaped peoples lives. I can't tell you – it's the biggest honor of what you do – how many people come up to you on a daily basis from our generation and go, "Hey man, thank you for making my childhood so cool" or something like that. I look back on my childhood and [Ric] Flair and Dusty [Rhodes] and those guys and feel the same way, so I understand what they're saying. And to do that with that level of longevity and not go off the air while everybody else was like, "Yeah, it's just Raw." And we just kept doing it. It's hard to not say it's an incredible accomplishment, whether we have to toot our own horn for it or not.
So when you wake up the morning after, is it, "OK, now we have to figure out how this lasts another 25 years"?
Dude, that's every week. A year ago, Vince [McMahon] was at WrestleMania, and WrestleMania got done, and he took his headset off, took a deep breath and was like, "Man, that was good." And one of our writers walked over to him and handed him the script for Monday Night Raw. He goes, "That's it? That's my offseason? Here we go." And that is what we do. Tuesday morning when we wake up, that will be the start of the next 25 years.