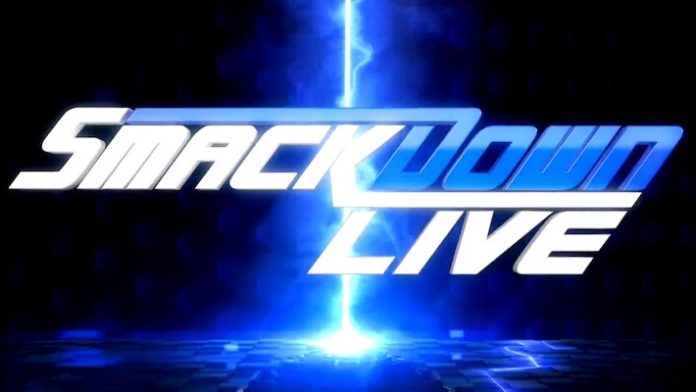 The August 22nd edition of WWE SmackDown Live took place at the Barclays Center in Brooklyn, NY and was the first episode of SmackDown after SummerSlam 2017.
- WWE United States Champion AJ Styles makes his way out to the ring to kick off the post-SummerSlam edition of SmackDown. AJ gets on the mic and welcomes us to SmackDown, "the house that AJ Styles built." AJ says he's the biggest workhorse in WWE, and now it's time to begin the United States Championship Open Challenge again. Kevin Owen's music hits and Owens comes down to the ring and complains that AJ Styles' victory over him at SummerSlam was another McMahon family screwjob of a Canadian. Shane McMahon comes out next and takes issues with Owens' comments. Shane steps in the ring and says that Owens was beaten fair and square on Sunday. Owens shows footage on the Titantron of a call Shane made at SummerSlam that he wasn't pleased with. Owens gets in Shane's face and complains until AJ tells Owens he's being a "whining bitch." Owens challenges AJ to a U.S. Title match tonight, but this time Owens wants to pick the referee. AJ accepts, and Shane adds the stipulation that this will be Owens' last opportunity to face AJ for the U.S. Title as long as AJ has the belt.
- Daniel Bryan is backstage on the phone when The Singh Brothers walk in. They introduce WWE Champion Jinder Mahal to the room. Mahal walks in and says he knows why Bryan wants to talk to him right now, then talks about how great he is. Bryan says he doesn't think Mahal can win without the help of the Singh Brothers. Mahal says Bryan is just another xenophobic American and he's really a hero. Bryan says heroes don't take shortcuts like Mahal does, then Bryan books the Singh Brothers in a match against Shinsuke Nakamura tonight so Nakamura can get some revenge for SummerSlam.
- Kevin Owens and Sami Zayn have a conversation backstage where they seem to make amends. Owens says maybe they shouldn't be fighting each other, but rather against others. Owens tells Zayn that since coming to SmackDown he hasn't done anything that matters, but tonight he can do something that counts by being the referee in Owens' match tonight against Styles. Owens asks Zayn just to consider it, and Zayn looks skeptical.
- Aiden English is in the ring for a song, but he's quickly interrupted by Bobby Roode who is making his SmackDown & WWE main roster debut. Roode makes his glorious entrance and Aiden English is not happy. Roode's debut match is up next.
- Bobby Roode vs. Aiden English: Roode starts off strong as he knocks English to the outside. Back in the ring Roode lays into English with chops to the chest then hits a back body drop. English comes back with a kick to the midsection, then he takes Roode into the corner for more strikes. The fight spills out to ringside where English whips Roode into the fan barricade then hits a splash on him. Back in the ring, Aiden stays in control until Roode comes back with a spear into the corner and a series of chops to the chest. Roode hits an atomic drop and a lariat then hits a Blockbuster as JBL makes a "Beer Money" joke on commentary. Roode hits a spinebuster, then waits for English to get up and hits the Glorious DDT for the win via pinfall.
- After the match, the former NXT and TNA Champion does an in-ring interview with Renee Young. Roode says SmackDown just acquired the hottest free agent in sports entertainment today, and that in a New York minute SmackDown has gone from great to glorious.
- Chad Gable walks into Daniel Bryan's office. Gable says he's done talking about Jason Jordan and Kurt Angle, and wants to focus on his career. Bryan tells Gable that he didn't just give Jordan to RAW, Kurt Angle had to make a deal to help him sign one of Angle's friends. With that, Bryan introduces another new member of SmackDown: Shelton Benjamin. Bryan says he's teaming up Gable and Benjamin next week, and both Gable and Benjamin seem excited about the new pairing.
- Kevin Owens approaches Sami Zayn backstage and hands him a referee shirt. Zayn says he did give it some thought, and tells Owens he thinks he'll have to find someone else to help him in his match against AJ tonight. Zayn tosses the ref shirt at Owens and walks off.
- The Usos def. The Hype Bros: Mojo starts off strong against Jey with a spear in the corner and a gut-wrench suplex. Mojo follows up with a Stinger Splash, but then he gets distracted by Jimmy in the corner and Jey dropkicks him from behind. Jimmy gets the tag and the Usos double team Mojo. Mojo dodges a splash and gets the tag to Ryder. Ryder brings the pain to Jimmy and hits a running bulldog. The fight spills outside and all four men brawl on the floor. Back in the ring, Jimmy goes for a splash on Ryder in the corner but Ryder blocks with his knees. Jey distracts Ryder from the apron which leads to Jimmy hitting the superkick on Ryder for the win after a short match.
- The Usos cut a promo after the match and say before they "make like chips and dip," they have something to say. They tell the teams of SmackDown that when they feel like someone is creeping up on them it's not paranoia, it's the Usos.
- Nakamura is backstage warming up for his handicap match tonight against both Singh Brothers.
- Shinsuke Nakamura def. The Singh Brothers: Before the match, the Singh Brothers announce WWE Champion Jinder Mahal's entrance as he'll be in their corner at ringside. The Singh Brothers are both legal at the same time in this match, as opposed to tagging in and out. Nakamura starts off with kicks and the Singh Brothers take a moment to regroup. More kicks and knees from Nakamura, then he sets both brothers across the ropes in the corner for a running knee. Nakamura throws both of his opponents out to ringside, and Jinder is not happy. Jinder distracts Nakamura, and the Singh Brothers run in and attack Nakamura from behind. Nakamura ends up knocking one brother outside, then putting the other brother in an arm bar for the win via submission.
- Immediately after the match, Jinder knocks down Nakamura from behind. Jinder takes off his coat and Nakamura comes back with a kick and a running knee to the face.
- The Fashion Police approach Kevin Owens backstage and offer to be referees in his match tonight. Owens tells them no and to get away from him. Baron Corbin grabs Owens by the shoulder from behind and says he'll do it, but if Owens wins the U.S. Title, then Corbin wants first dibs. Owens says it's a deal and hands Corbin the ref shirt.
- New WWE SmackDown Womens Champion Natalya is out to the ring next and she's got a mic. Natalya says she proved again on Sunday that she's the best there is, was, and ever will be. Natalya says she is a real champion and will forever be the SmackDown Womens Champion. She says she'll restore honor and dignity to the title, then gets interrupted by Carmella and James Ellsworth. Carmella and Ellsworth congratulate Natalya on "finally" winning something, "unlike these people in Brooklyn." Carmella tells Natalya she's on borrowed time, because Carmella will cash in her Money In The Bank contract when the time is right. Becky Lynch and Naomi come out, and we've got a tag match.
- Naomi & Becky Lynch def. Natalya & Carmella: Carmella and Naomi start off, but before they even lock up Carmella tags in Natalya. Naomi takes control and tags in Becky who tries to keep Natalya grounded. Natalya fires up and slams Becky into the corner, but Becky comes back with a series of kicks. Naomi tags back in and they briefly double team Natalya. Becky quickly tags bck in and hits a leg drop on Natalya. Natalya drops Becky into the corner and stomps a mud hole in her. Natalya puts Becky in a sleeper but Becky gets out. Natalya comes back with an elbow to the face, then she knocks Naomi off the apron. Natalya tries to tag in Carmella, but Carmella refuses and jumps off the apron. Natalya and Carmella argue which leads to Becky coming back with a kick to the head. Becky goes to the top rope but Natalya throws her down to the mat. Natalya gets distracted by Carmella again and Becky tags in Naomi. Naomi kicks Natalya then rolls her up for a near-fall. Naomi locks Natalya in the Rings of Saturn but Natalya breaks out. Natalya boots Naomi then tags in Carmella by slapping her on the back. Natalya and Carmella start fighting which leads to Becky coming in and hitting a T-bone suplex on Carmella. Naomi follows up with a split legged moonsault on Carmella for the win.
- Dolph Ziggler is backstage for an interview where he says he's back and is reintroducing himself to the WWE Universe. He complains that he's being reintroduced in a backstage interview. Ziggler says he's been watching a lot of RAW and SmackDown, and says now he knows what it takes to be a star in WWE - he's going to start singing, playing guitar, rap and dance around like an idiot. He goes on about needing a laser show and a fancy robe. He says he's going to come out with all of these things and a woman who glows in the dark to escort him to the ring — next week.
- Backstage, Lana tells Tamina that her ravishing journey to the Womens Title starts next week. Tamina asks what about this week, and Lana tells her they're going to look inside themselves so she needs to close her eyes. Lana gives Tamina a motivational speech and tells her to get angry. Lana says Tamina is ready, and one by one they will crush the competition as their ravishing reign of terror begins. Lana says they won't stop until Tamina gets the Womens Title and is the most-feared woman on SmackDown live.
- AJ Styles runs into Baron Corbin backstage. Corbin is already wearing his referee shirt, and tells AJ about his deal with Owens. AJ tells Corbin that he's going to retain tonight, and he offers an open challenge every week so Corbin just has to answer it next Tuesday.
- AJ Styles (c) def. Kevin Owens: Baron Corbin comes out to the ring first with new entrance music. AJ Styles' U.S. Title is on the line in this one. Owens rolls outside at the sound of the opening bell. AJ yells at Corbin for not counting out Owens, then Owens attacks AJ from behind. Owens lays into Styles with strikes and beats him down in the corner. AJ comes back with a dropkick that sends Owens falling out to ringside, then the Phenomenal One follows up with a suicide plancha onto Owens. Back in the ring, Styles ducks a clothesline from Owens and fires back with a Pele kick. Owens rolls outside and trips up Styles on the apron. Owens grabs Styles and hits a fallaway slam that sends AJ crashing into the fan barricade. Back in the ring, Owens knees Styles in the face then grinds AJ's face into the mat. Styles fights back with elbows then hits a facebuster and both men are down. They get up and Styles tees off on Owens with a series of strikes. AJ follows up with a running forearm to the face, then hits a running clothesline on Owens in the corner. Styles hits the fireman's carry neckbreaker for a two count on the challenger. AJ goes for the Phenomenal Forearm, but Owens ducks it. Styles gets Owens in the Calf Crusher, but Corbin feels that Owens reached the rope so he breaks the hold. Styles disputes this and gets in Corbin's face. Owens pushes Styles into Corbin and Corbin freaks out. Corbin throws a punch at Styles and Owens rolls up Styles from behind for a two count. Styles and Owens clothesline each other and both men are down. Shane McMahon runs in and asks Corbin what he's doing. Corbin is distracted by Shane at ringside while Owens hits a low blow on Styles. Owens pins and Corbin counts, but Shane saw the low blow and he pulls Corbin out of the ring. Corbin freaks out at Shane and rips off his referee shirt. Corbin hands the ref shirt to Shane, then Corbin heads backstage. Shane puts on the ref shirt and hops in the ring, and Owens is not happy. Owens gets in Shane's face, then turns his attention back to AJ. AJ chokes Owens over the top rope then hits the Phenomenal Forearm for the three count. AJ wins and retains his U.S. Championship. Shane hands AJ the strap and raises his hand in the ring as Owens rolls outside to recover. AJ gets on the turnbuckle and holds up the U.S. Title as Owens looks on in shock and SmackDown goes off the air.